While oil production has been booming in Texas and North Dakota in the US, a smaller boom has been going on in the oil sands of Alberta, Canada.
Alberta has 168 billion barrels of proven petroleum reserves locked up in thick, tarry sand deposits known as the Athabasca oil sands. The oil formation is the world's third largest. These deposits are either strip-mined when close to the surface, or steam is injected into the ground, causing the thick bitumen to flow to parallel wells. The extraction is not cheap or easy, but has been increasing.
One pipeline company, TransCanada, proposed the Keystone XL pipeline in September, 2008 to carry up to 830,000 barrels per day from Alberta to the Texas gulf. In 2010, Montana Governor Brian Schweitzer negotiated a deal to reserve 100,000 barrels per day for crude from Montana and North Dakota, leaving 730,000 barrels per day of capacity left for Canadian oil.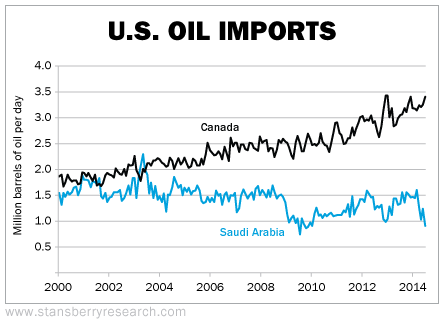 Although the Keystone XL pipeline has become a political issue, the delay in building the pipeline has not prevented the development of the Alberta oil sands or kept the oil from crossing the border. When the pipeline was proposed, US oil imports from Canada were running about 2.5 million barrels per day. Now, those imports are running about 3.25 million barrels per day, 750,000 barrels per day higher. A product in demand tends to find its way to market one way or another.
Some of that Canadian oil has been carried by rail. Canadian oil exports by rail have risen tenfold from 16,000 barrels per day in the first quarter of 2012 to 165,000 barrels per day in the first quarter of 2014. neb-one.gc.ca Some 50,000 more rail tank cars are on order and expected to be manufactured over the next two years. 100 tank cars stretches about one mile; 50,000 tank cars joined end-to end would stretch 500 miles. Many of the cars on order are of the "coiled and insulated" type designed specifically to carry heavy, thick Alberta bitumen. Once they reach their destination, steam is injected into the coils to warm the bitumen enough that it can flow easily and drain from the rail car. In conventional rail tank cars, the bitumen needs to be diluted about 30% with a lighter, thinner petroleum product called a diluent. The diluent is also used in pipelines to help the thick, gooey stuff flow.
The need for diluent has created a series of "parallel pipelines." The US ships the diluent north in one pipeline. Canada mixes it with their thick bitumen and pipes it back south. rbnenergy.com
Because the delays in approving the Keystone XL have exposed a critical dependency on the US for Canadian oil exports, Canadians are preparing to take control of their own exports by shipping oil to their own east or west coasts. TransCanada has recently proposed the Energy East pipeline to carry up to 1.1 million barrels per day from Alberta to St. John, New Brunswick, where the oil can be loaded on tankers and shipped to India. wsj.com Canada's National Energy Board has also approved a 525,000 barrel per day pipeline proposed by competitor Enbridge to carry crude from Alberta to Kitimat, British Columbia for export to east Asia. cbc.ca And Kinder Morgan has proposed to build a parallel pipeline to their Trans Mountain pipeline to Vancouver to nearly triple the capacity from 300,000 barrels per day to 890,000 barrels per day. neb-one.gc.ca All four proposed pipelines face opposition but one or more of them is likely to be built. There's a lot of money behind them and money talks in Washington, Ottawa and Victoria.
In Washington, the House has once again voted to approve the Keystone pipeline. In the Senate, Louisiana Senator Mary Landrieu (D) is facing a runoff election on December 6th. Chances that she will keep her seat look slim, but as chairman of the Senate Energy and Natural Resources Committee, she expects to finally get the Senate to vote on the Keystone issue which was first approved by the House in July 2011. If passed, it's unclear if the President will sign the legislation. politico.com
At the moment, there seems to be plenty of oil to go around in the world, and the price has dropped by over 30% since June, down to about $75 per barrel. Canadian oil sands are among the world's most expensive to produce. At this price, Canadian production might take a bit of a breather. The Keystone XL, even if approved next week, won't be in operation until 2016. The Trans Mountain expansion won't be in operation until at least late 2017. Enbridge's Northern Gateway won't be in operation until at least 2018. TransCanada is also hoping for a 2018 start of operation for the Energy East pipeline to New Brunswick. Numerous court challenges are likely to delay each of these projects. But chances are, by the time one or more of the pipelines get built, oil prices will have risen again and Canadian oil production will have a ready market.